Welcome From the Headmaster
Dear Friends,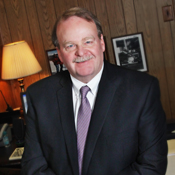 Thank you for your interest in Lakehill Preparatory School. For 49 years, Lakehill has embraced its mission to challenge college-bound students to navigate a diverse and ever-changing world by providing them with the opportunity to develop robust academic skills and to cultivate unique talents.
Lakehill demonstrates its commitment to students by offering the individual attention needed to excel in an academically challenging, college-preparatory curriculum. Through accelerated core academics, course electives, and extracurricular activities, Lakehill provides an environment for academic excellence.
Lakehill students recognize the importance of involvement in their school, community, and the world around them. Theater, music, publications, athletics, and a variety of student clubs and organizations promote teamwork and help students develop valuable leadership skills. Students also benefit from a peer mentoring program, forming lasting bonds between younger and older students. Community service is fundamental to the spirit of the school. Students are encouraged to embrace a spirit of volunteerism that will foster a life-long passion for service.
Lakehill students all go on to pursue education at a higher level, and are accepted into Ivy League schools, top research universities, liberal arts colleges, renowned art institutions, and international universities. Collectively, the Class of 2020 earned over $4,300,000 in academic scholarships, an average of more than $153,000 per student. What is most important about our students' matriculation however, is the process of pairing the student with the right school. Through an extremely successful college counseling program, we work together with every family, discussing each student's dreams, abilities, needs, and interests when choosing a school.
Lakehill Preparatory School does not discriminate on the basis of race, color, religion, gender, orientation, or national or ethnic origin in its admissions, administration of its educational policies, financial aid programs, athletics, or other school-administered programs. The school is accredited by the Independent Schools Association of the Southwest (ISAS) and is a member of the National Association of Independent Schools (NAIS).
Lakehill Preparatory School is an academic community dedicated to the development of the whole student. I encourage you to explore the opportunities Lakehill has to offer your child.
Warmest regards,
Roger L. Perry
Headmaster